Company
The company OLEJÁR, spol. s r.o. was established in 2005 as a manufacturer of fiberglass products. Since 2008 it manufactures and installs tactile floor indicators, stair nosings, sanitary handles, Braille signs, anti-slip tapes and other products in the field of pedestrian navigation and safety.
OLEJÁR is a Slovak manufacturer and is one of the leading experts in the field of accessibility and safety of public spaces. It offers one of the largest portfolios of safety and tactile products. The current modernized production facilities enable high quality, precision and great variability of dimensions and shapes of products.
We offer complete safety solutions - we supply products and services to countries around the world and adapt them to individual norms and standards. Our vision is to achieve the position of a world number one and create products that stand out from the rest, that are innovative and different.
Direct customer service
We deeply believe in a close and trusting relationship with our customers. We work closely with our customers - online, by phone and on the construction site. All this provides feedback for our project department, so we know well what is expected from the following, even better and bolder projects.
We develop and manufacture our own products
We know that public spaces are dangerous and full of pitfalls. That is why we work to find solutions for safer movement of people. We manufacture our own OLEJÁR products and co-operate with external specialized suppliers to make sure that everything we do always meets the same, very high demands.
Our people are what makes us different
Our people are OLEJÁR. It is the members of our teams who do our daily work and make our daily decisions. Our work is our passion. We are deeply guided by four OLEJÁR values ​​- integrity, courage, teamwork and commitment - we live by them every day, every member of our teams, every place we work.
Our approach to social responsibility
Caring for social responsibility has been part of our culture since our founding in 2005. It is also an integral part of our business. OLEJÁR acts ethically and with a long-term perspective. We exercise responsibility to members of our own teams, our customers, partners and suppliers, as well as to the way we approach the environment and society. We believe that responsibility goes hand in hand with long-term business success.
Our values
Our values - integrity, courage, teamwork and commitment - determine how our teams work together and how they get along with our partners outside our company.
Our responsibility towards the environment
Setting our environmental goals. For us, environmental protection and innovation go hand in hand. From designing our buildings to global projects, we work to improve our own environmental footprint and minimize our impact on the environment. We have set our environmental goals in accordance with the global ISO 14001 standards for management of environmental aspects. We carefully monitor what we do and make sure that we meet our goals in practice while operating anywhere in the world. We also require our partners to protect the environment so that we can meet our commitment throughout the value chain.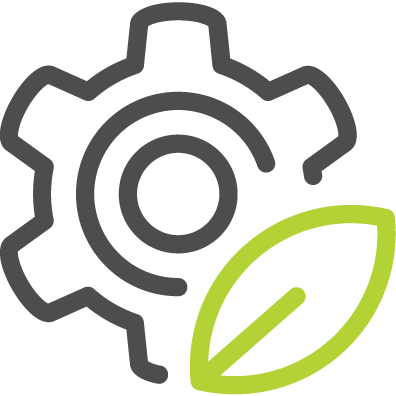 OLEJÁR environmental footprint
Environmentally friendly products and technologies
Ecological awareness begins from the moment we research our products and continues throughout their development. All our new product designs take into account resource and emissions utilization throughout their life cycle, as well as during their development. We improve resource and energy efficiency, extend the life of our products, and use components and packaging made from recyclable materials. We use life cycle assessment (LCA) to assess environmental compliance in everything we do. This way, we cover the full environmental impact of our products - from the supply of raw materials to production and use and recycling. All of this information can also help customers improve their environmental balance.
We make our own buildings and transport environmentally friendly
The standards we strive to achieve for our customers, we also apply to ourselves. We are still looking at how to be more environmentally friendly and reduce our own CO2 emissions, energy and water consumption in our factories, plants, offices and transport. We use an air-to-water heat pump for heating and cooling. We can recover about 70 percent of waste heat from the ventilation system.
At present, our company manufacture and provide installation of these products:
We are leader in the production, supply and installation of tactile elements for the blind, fiberglass, anti-slip and navigation solutions, both outdoors and indoors.
Tactile guiding systems
From the finest materials such as stainless-steel, brass, bronze, aluminium, ceramics and polyurethane.
Anti-slip elements
Anti-slip tapes, plates and covers for marking barrier-free entrances for wheelchairs, stairs, ladders and ramps.
Fiberglass products
Roof boxes, transport coffins, covers for dental equipment, etc.
Stair nosings
To mark the edges of stairs in urban and industrial buildings, preventing trampling and slipping from the stairs.
Tactile tables and labels
braille signs and labels for doors and handrails.
Hygienic handles
ergonomic forearm-operated handles to increase hygiene and reduce the transmission of pathogens from person to person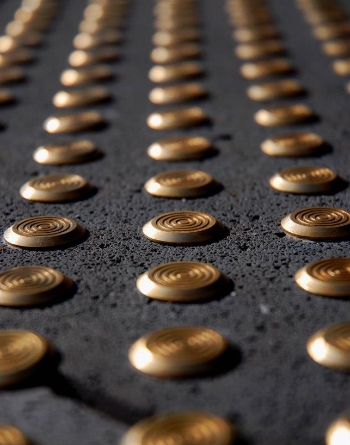 We guarantee extreme durability of our products
We work quickly and reliably. Thanks to our complexity, we provide turnkey services, i.e. production, delivery and installation. We work with our partners and customers to solve all their needs associated with the care of the aesthetics of the installation, product maintenance and the level of security in the premises of individual buildings..
With us, the customer will find everything he needs in the field of tactile warning strips, tactile guiding lines for the blind, anti-slip and navigation solutions.
Services